​Australian Figure Skating Championships 2018
30 November - 7 December
Macquarie Ice Rink, Sydney
AFSC (Nationals) 2018:
Entries close 26 Oct: note earlier closing for registration and photos
Entries and payments: are to be submitted direct to NSWISA via the online registration system here.
PPC, Music Information, Music Upload and Photo Identification must be submitted at time of entry.
Please note the entry process requires all components to be complete or entry will not be accepted by the system.



Australian Figure Skating Championships 2017 2-8 December, Queensland

Congratulations SA skaters:
Basic Novice A Ladies: Ciana Tang-Edwards 14th; Madison Dempsey 26th; Sarah Chapman 32nd
Basic Novice B Ladies: Kaitlyn Ineson 17th; Jasmine Nelson 20th
Basic Novice B Men: Andy Yao 1st, Australian Champion
Intermediate Ladies: Laura McArthur 10th; Natasha Colliver 19th
Advanced Novice Ladies: Izzy Mason 25th, Kiana Castro 28th
Advanced Novice Men: Tremayne Bevan 6th
Junior Ladies: Ashley Colliver 10th; Arielle Jennings 12th
Junior Men: Giuseppe Triulcio 2nd
Senior Men: James Min 4th, Giuseppe Triulcio 8th
Junior Pairs: Kaitlyn Ineson & Tremayne Bevan 1st, Austrlalian Champions
Adult Silver Ladies 36+: Angela Schuurmans 1st, Australian Champion; Stephanie Huot 8th
Adult Gold Ladies: Bianca Martin 4th
Adult Master Ladies: Lauren Moore 2nd
Basic Novice Synchronized: Adelaide Ice Magic Basic Novice 2nd
Mixed Age Synchronized: Adelaide Ice Magic Mixed Age 1st, Australian Champions
Adult Basic Synchronized: Mixed Company 3rd

See the 2016 AFSC video clip compilation on the Ice Skating Australia website. Click photo below.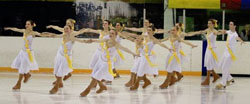 Photography: Foster Photographique's